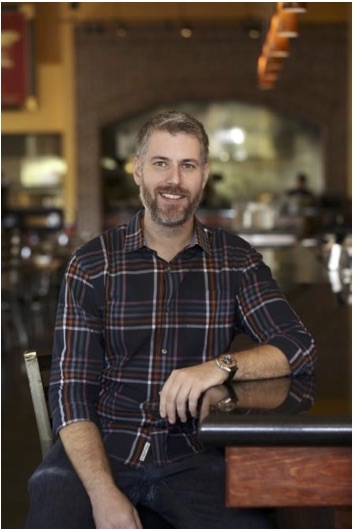 A Georgia native, Doug Gross has always had a parallel passion for both food and music – graduating from UGA with a degree in Music Performance on the Double Bass, while also working in the restaurant business for many years. 
Throughout his time in college, Doug regularly played and performed professionally with a number of local symphonies and bands.  In the summer before his junior year at UGA, he decided to also try his hand at the restaurant business as a way to supplement his income.  With no prior restaurant experience, he humbly started out as a cashier/host at The Grill in downtown Athens, a popular 24 hour diner.  Within a few short weeks, he managed to convince his bosses to let him try his hand at waiting tables.  By the end of the summer, he was waiting tables full time and quickly falling in love with the industry. He loved the fast-paced environment, thinking/moving quickly on his feet, and challenging himself to come up with more efficient ways to multi task.
Shortly after college graduation in 2004, Doug's band, Wrong Way, found a somewhat sudden success in the music industry.  They began touring/performing non-stop all over the country.  With Atlanta now as his home-base, Doug found himself travelling every weekend to perform and decided to take a job at the Buckhead Diner to fill down time during the week. It was at the Diner where he first met and befriended Executive Chef Joey Riley. The two realized that they were Brookhaven neighbors and though Doug eventually left the Diner to tour full time with his band, their friendship continued to grow.
By 2009, after years of performing, Doug began to grow tired of living on the road with the band.  The housing market in Brookhaven was quickly recovering from the 2008 recession and he saw a neighborhood primed and chomping at the bit for a gathering place that locals could walk to, grab a cocktail or a craft beer, and of course enjoy great food. Together with Chef Joey Riley, they opened their first restaurant, Kaleidoscope Bistro & Pub in 2010.
Initially, Doug intended to only work at the new restaurant a couple of days a week, meanwhile continuing to teach and play music. Very quickly though, he realized that he had an internal pull, a passion, to be at the restaurant.  Almost immediately, he found himself working there full time.  Making a connection with neighbors and guests, making them happy and ensuring that they had the best experience possible, felt more like fun than a job.  Doug immersed himself in every aspect of the restaurant and learned "so many new things to make it the place I wanted it to be."
Excited about once again helping to create a neighborhood gathering place from the ground up, Doug's goal is to establish Lagarde as a "modern day Cheers"  – a local's restaurant and bar where everyone knows you, knows what you like to drink and eat, and ensures that you have a fantastic experience.