AMERICAN CUISINE,
NOLA TWIST
Lagarde American Eatery – Milton is a casual yet upscale neighborhood gathering spot located in the heart of Milton. The food menu features a diverse blend of traditional Nola dishes (the kind that Chef Jamie grew up eating) and modern American cuisine. We also feature a daily selection of some of the freshest oysters you'll ever see in the Atlanta area. Our beautiful indoor/outdoor bar boasts a wide array of unique bourbons, craft beers, specialty cocktails, and eclectic wines. Whether you're looking for a cool date night spot, a comfortable place to hang with friends, or a friendly environment for the whole family, Lagarde has you covered! Join us for dinner every night of the week (except Monday) or pop by for Saturday or Sunday brunch and enjoy a mimosa (or three) and some delicious breakfast fare! And as they say in New Orleans…


1935 Heritage Walk
Milton, GA 30004
Tel: 678-587-5032 
Online reservations available for parties of up to 12 people. For larger parties, please call us to discuss the details with our staff and we will be happy to assist in making your plans.

Join us on Tuesday, February 21st for our first ever Fat Tuesday/Mardi Gras celebration!!We've got some amazing Nola food specials planned, a ton of different Abita beers to choose from, Hurricanes, Hand Grenades, King Cakes, Beads, Beads, and umm more Beads!! There is NO cover for the event but we do expect it to be pretty crowded so make sure to get here early.  Also, you can now make reservations online by simply clicking the "Reservations" link in the above section.  We can't wait to see you all there and as always, Laissez Les Bon Temps Rouler!!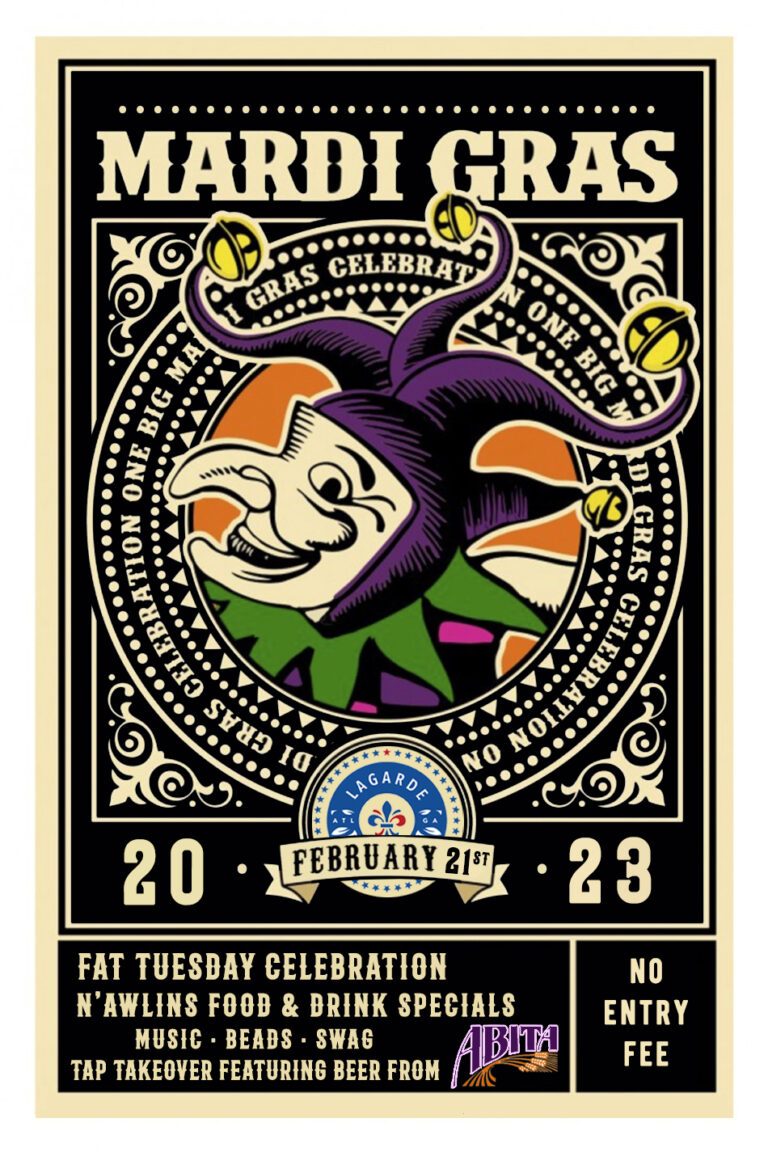 Sign up for our newsletter and stay in the know! We'll keep you posted on all things Lagarde, including special offers, events, new menu alerts and so much more!
We are located in Crabapple Market, right next to the entrance of the lower level of the parking deck.  The entrance is just across the road from Savi Market
Lagarde American Eatery
1935 Heritage Walk
Milton, GA 30004
Questions, comments, concerns?  Need to book a large party?  Just want to tell us how amazing we are?